Franklin, Tennessee is known for being named after Benjamin Franklin, the historic Civil War sites throughout the city, and its annual festivals, but if you take a walk downtown, you'll find there's more to this city than meets the eye. Just a 22-mile drive from Nashville, this growing city offers all of the upscale shopping options of the city without the same party scene that clings to the capital city of Tennessee.

Find a fresh new outfit, makeover your house, or find that perfect pair of shoes to wear to a special occasion without leaving city limits.

1. Avec Moi
This Main Street shop prides itself on having a unique selection of treasures for you to find. Stroll between an old brick wall and carefully placed displays and gaze at new or vintage kitchen and bar accessories, gift books, and other unique finds. Shop Yushi and Boho Chic women's apparel, PJ Harlow sleep, loungewear, or even La Rochere glassware from France, all in historic downtown Franklin!

This shop celebrated its 10th anniversary in 2019, and that's partially thanks to the way Avec Moi's owners Bob and Greg treat their community members. During the COVID-19 pandemic, they regularly spotlighted their postal carriers, UPS, and FedEx drivers on their Instagram account as a way of saying thank you. Their personal touch doesn't stop there. The couple makes trips to Brimfield, MA, to America's Oldest Outdoor Flea Market every year to scout for vintage items to sell in their shop. Stop by and say hi any day of the week during their store hours.
2. Citizen
Citizen found its way onto Main Street Franklin because founders Damien Wong-Ken, Nathan Lampa, and Toby McKeehan couldn't find their preferred brands within a 3-hour drive. Their brick-and-mortar store carries hard-to-find European sneakers, the hottest hypebeast, and streetwear brands, hats, beanies, and various accessories. Find brands such as Chinatown Market, Happy Socks North America, and Vans.

The shop is named Citizen because the brand wants its customers to recognize them as a part of the community and gives back to the community. Customers are welcome to come in and browse, hang out and connect new people with common passions at their Main Street shop.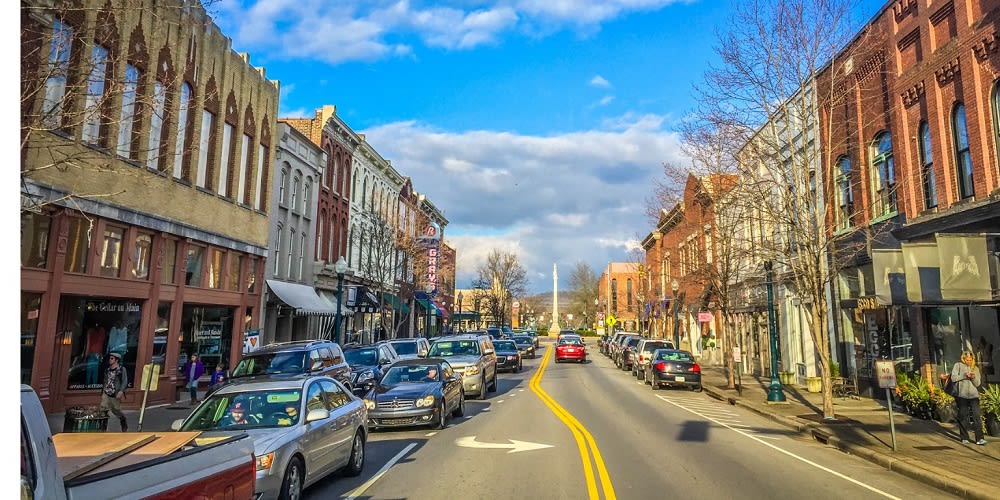 3. Franklin Road Apparel Company
This store is a brand-new addition to Main Street as of 2020, but this menswear-oriented store has already set itself apart. CEO Ken Thwaits describes Franklin Road as being "everything you needed from a men's store." Find a Trans-Am brand shirt that fits as you check out the 25-car Camaro collection. Complete your outfit with their selection of men's apparel, jewelry, designer shoes, and more. Dress in style for their Singer-Songwriter Saturdays and enjoy live music. Franklin Road offers free alterations and free local same-day delivery for their customers.
4. Hester and Cook
This home, gift, and stationery shop was started by husband-and-wife duo Robbie and Angie Hester Cook. Although their products can be found at 3,000 stores worldwide, you can browse decor, kitchenalia, decorative tabletop settings, party supplies, and more at their Main Street store in Franklin. Get a first-hand look at their paper placemat pads and table runners, designed to tastefully fit in with various styles and occasions. When you make a purchase at Hester and Cook, a portion of the sales goes to the Wonderful Life Foundation that Robbie and Angie started. The foundation seeks to help the families of children undergoing treatment for serious illnesses.
5. Kelly Spalding Designs
This Southern lifestyle boutique in historic downtown Franklin features home decor, clothing, accessories, and gifts to bring a new personality into your home. Owner Kelly Spalding believes decorating your home should be fun and meaningful. When she curates a collection of vintage finds, modern home pieces, and locally handmade items, Kelly makes sure to include pieces by Southern makers and small businesses.

But down worry if you aren't a design expert. Find design tips and inspiration by Kelly in Southern Exposure Magazine or on the blog she shares on her website. Kelly also offers interior design services, including consultations, in-depth design services, and styling. Kelly Spalding Designs is located on Columbia Avenue.
6. Magpie's Girl
This luxury girl's boutique is the perfect place to find a positive shopping environment for girls aged six to 14. The owners of Magpie's Girl believe in cultivating a place where girls can enter and be focused on happiness, integrity, and fun. Find clothing, gifts, jewelry, and assorted accessories to give your little lady her own style. Find a beautiful baby gift such as pajamas, dresses, and daytime outfits for the new arrival. When you order online, you can download and share free coloring sheets and quotes.
7. Living Franklin
Sisters and owners Olivia and Liz bring their own flair to historic Franklin with this store and interior design service combo. Find an assortment of candles, home and holiday decor, vintage pieces, custom gifts, and fresh local flower bouquets at Living Franklin's brick and mortar location. Olivia runs the design portion of the store, offering styling, consultations, full-service designs, and even an E-Design option including floor plans, mood boards, and more without leaving your house. As part of their effort to connect with their local community, they started an occasional Ladies Night event, where they hold workshops teaching participants how to make home decor items.
8. Onyx and Alabaster
Owner of Onyx and Alabaster, Tanya Hembree, has curated a unique home shopping and interior design experience inside her Public Square space in Franklin, just a couple of blocks from downtown. You can expect to find a hand-selected collection of furniture, home decor, and work by local artists at Onyx and Alabaster, as well as access to their on-site coffee lounge with assorted beverages.

Tanya is also the principal interior designer, offering services including Advice Consult for those with some design experience, Design Consult for those with no experience, Professional Paint Selections, All Finish Construction projects, and Design for a Day consults that get you started on your own projects with minimal commitment. Listen to her podcast, Black and White Sofa, where she interviews extraordinary people and shares stories to encourage, inspire and hopefully make you laugh. Prefer to learn more about design? Tanya shares tips for designing your home and shares behind-the-scenes thoughts about recent podcast episodes.
9. Jondie/Mimi & Dottie
Boutique stores Jondie and Mimi & Dottie on Main Street Franklin are unique. Not only do they sit across from each other, but they are also owned by the same person! Owner Rebecca Davis has a love for fashion and a degree in Fine Arts, both of which shine through in her storefronts. Jondie features a mix of fashion-forward and classic women's clothing, jewelry she designed and produced herself, leather and vegan leather handbags, and beauty items, while Mimi & Dottie is the name of her jewelry brand specifically.
10. The Purple Butterfly
The Purple Butterfly is a children's boutique that was born after the owner's father passed away and her grandchildren were born. Owner Dale and husband Neil left successful careers to open the boutique, which stocks children's apparel, costumes, bags and backpacks, bedding, sleepwear, swimwear, and more. Bring your kids to attend Story Time with the Princesses on the first Saturday of every month, or stop in to pick out a new toy. Find art supplies, dolls, games, puzzles, playsets, cars, trains, and more in the toy section of the boutique. The Purple Butterfly offers customers the ability to build a custom baby registry to fit their unique needs. Those searching for the perfect baby gift can purchase an item to be monogrammed for free, either on that day or at a later date. Visit their Second Avenue store as you stroll through North Franklin.
11. Walton's Antique and Estate Jewelry
Walton's Antique and Estate Jewelry began as Melba Walton's brainchild almost 50 years ago. At the time, she could not get a loan without her husband, so with his help, Walton's was born. This shop is perfect for those who want to find that one-of-a-kind piece of jewelry, whether it's one of their new pieces, classic finds, or custom designs. Find the pre-1940s piece that suits your style with the help of Julie Walton Garland, licensed gemologist and Melba's granddaughter.

Whether you're shopping for yourself or for family, there's sure to be something that will catch your eye in Franklin. If your search is for homes for sale in Franklin, don't get lost in internet ads. Contact Franklin realtor Carrie Zeier and find the perfect piece of Franklin real estate today.
*Header image credit: Tennessee Tourism